Tête de gondole pour George Plassat : il va positiver l'enseigne CARREFOUR!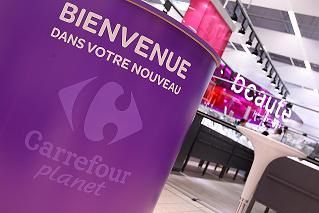 Le Furet vous l'avait annoncé hier :  Carrefour : Georges Plassat a dit OUI et rejoint l'enseigne pour remplacer Lars Oloffson!      , et la bourse suit le Furet ;0)...
''A la Bourse de Paris, le titre Carrefour s'envolait jeudi, en hausse de 7,19% à 18,10 euros dans un marché en progression de 0,90% à 12h07''.
Beaucoup de réactions septiques de lecteurs de ce blog hier suite à mon article (13 h). pourtant c'est confirmé.
Même le Wall street à suivi...
C'est une excellente nouvelle pour le monde du retail.
Au revoir Mr Oloffson. Je ne suis pas trop inquiet pour votre retraite dorée.
Article Wall street :
PARIS—Struggling French retailer Carrefour SA is in the home stretch of hiring clothing boss Georges Plassat to replace chief executive Lars Olofsson, according to people close to the situation.
Mr. Plassat could sign on to succeed Mr. Olofsson as early as next week, according to these people. Mr. Plassat is the head of French apparel group Vivarte SA, in which he is also a shareholder.
Negotiations between Mr. Plassat and the recruiting committee of Carrefour's board have been held up over Mr. Plassat's ties to Vivarte, according to these people, and the talks could fall apart. Mr. Plassat became a stakeholder in Vivarte when it was taken over by private-equity fund Charterhouse in 2007.
Carrefour and Vivarte declined to comment. Mr. Olofsson also declined to comment.
Carrefour's shares surged Thursday on speculation that a management change was imminent. Shares in the French retail giant were up 7.4% in recent trade at €18.14 ($23.60), the leading gainer among French blue-chip stocks.
Mr. Olofsson, who joined Carrefour three years ago from Swiss food giant Nestlé SA, was also named chairman of the board last June. It is unclear if Mr. Plassat would take over both roles, or if the chairman and chief executive positions would be split again.
Mr. Olofsson's tenure as chief executive of the world's second-biggest retailer, after Wal-Mart Stores Inc., has been marred by profit warnings, strategic about-faces and a failed merger project. He hasn't been able to turn around Carrefour's business at home, which made up 43% of its €91.5 billion in sales last year.
"Investors have been quite upset with Carrefour's direction, so the potential of a new CEO with experience in the French market would be very good news," said Bernstein Research analyst Jonathan Alvis.
Mr. Olofsson has come under increasing pressure from Carrefour's largest shareholder, a joint venture between luxury-goods titan Bernard Arnault and U.S. private-equity fund Colony Capital, which holds 16% of the company. Carrefour's share price has tumbled from about €50 a share in 2007, when Mr. Arnault and Colony bought their initial stake, to a low of €14.66 in September.
Representatives of Mr. Arnault and Colony, who sit on Carrefour's supervisory board, have been meeting with potential candidates for Mr. Olofsson's job for months, according to the people close to the situation. The criteria are simple: Carrefour wanted to recruit a seasoned retailer, preferably French.
Though Carrefour's board originally touted Mr. Olofsson's brand expertise as what was needed to turn the retailer around, now he is seen as lacking the experience to run thousands of stores from China to Colombia.
"The potential of a new CEO with experience in the French market would be very good news," said Bernstein's Mr. Alvis.
Before joining Vivarte, Mr. Plassat was the head of Carrefour in Spain. He made his name in grocery retailing as the chief executive of French retailer Groupe Casino SA. He joined Vivarte in 2000 but left for a period of a year after a dispute with the shareholders at the time.
Vivarte comprises more than 20 mass-market apparel brands such as shoe retailer André and fashion label Kookai. Mr. Plassat has added to the group by acquiring brands such as shoemaker Accessoire Diffusion and trendy fashion brand Les Fées de Bengale.