Peapod l'enseigne à suivre.
Here's a sampling of experiments that offer a window into the future of food retail. They play off a recently-compiled list by the Hartman Group that features 9 experiments and includes predictions for which innovations will succeed or fail.
Virtual Stores. Online grocers are not new but they are starting to push the boundaries in terms of advertising and customer acquisition. Take this campaign by Peapod, in which it lined the walls of a Chicago transit station with product images and QR codes. Customers could, theoretically, order items while they waited for a train.
Peapod Virtual Store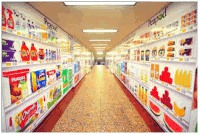 Following on similar experiments in Philadelphia in February 2012, Peapod, Ahold's online grocery company, recently created a virtual store in the subway tunnels of Chicago. Reflective of experiments by Tesco in South Korea and other such virtual stores in Japan, commuters can now scan QR codes from virtual shelves and order groceries for home delivery. Peapod notes, "Not only is Peapod the first in the nation to pilot this on-the-go, virtual store concept, but it's also the first company to mount a "tunnel takeover" ad campaign of this magnitude in Chicago."
Insight
From a marketing standpoint, what could be better? Captive, bored commuters walking down dull subway tunnels, surprised by faux-supermarket shelves. Like Tesco, which claims such marketing has greatly increased both interaction and online traction in its stores in South Korea (confirmed by one our of analysts who saw the Tesco walls in use there), this is a great way to extend products trapped in an invisible "online" store into the physical. As far as QR codes go, we know from our social media studies that few consumers are using them, so this also encourages use of the technology, along with online grocery shopping.