Le modèle Drive de Tesco UK : la france est pionnière et Tesco reste frileux !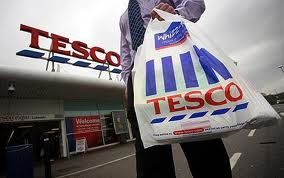 Bien que plus ouvert en général à l'évolution du commerce face au web et aux nouveaux comportements d'achat liés aux nouvelles technologies (ex QR commerce métro de Séoul, film TV QRcode livraison à domicile UK), sur le modèle économique du DRIVE Tesco semble plus prudent, Tesco adopte une démarche progressive et payante - 2 à 3 £ suivant créneau horaire - pour le shopper. Le constat semblant être la crainte de Tesco à ce que le drive contribue encore plus à la désertion actuelle des magasins par le public.
Comment vendre des produits de biens courant '' hors food'' si les gens ne viennent plus en magasin  pour leurs courses alimentaire s.... Certes la question est bonne mais à l'inverse, il est inéluctable que les magasins considerés comme des ''temples des tentations'' par les foyers en mal de budgets, sont désertés quoiqu'il advienne. Les gens n'aiment plus perdre leur temps en magasin ... mais ils aiment les magasins.
Le paradigme à résoudre rapidement.
Si je comprend bien le modèle français pousse le Drive ''sur quai'' et addossé, qui permet in fine au patron de l'hypermarché de récupérer des clients et du CA qui lui échappait et continuera à lui échapper, par les ventes en ligne et la volonté des shoppers de ne plus perdre de temps pour les courses contraignantes. Le modèle Tesco UK qui privilégie encore le passage physique dans le magasin même pour y prendre sa marchandise commandée en clic & pickup mais ajouter le complément notamment ''hors food'' sur place. Une vraie question.
Ci joint article brut de mon confrère IN STORE TREND : 
 http://instoretrends.com/index.php/2012/03/20/tesco-click-collect-groceries-delivery-drive-online-order-pickup-store/
 Tesco's Click & Collect grocery service, which was first offered to UK consumers in the summer of 2011, is very similar to the rapidly growing Drive concept services provided by hypermarkets like Auchan, E. Leclerc, and Intermarche in France.
By visiting www.tesco.com/groceries, Tesco customers can select the items they want to purchase and pick them up from any of Tesco's 45 Click & Collect locations.
While this online grocery ordering system is new for Tesco, Tesco Direct and the F&F clothing line have played a hand in helping the retailer learn the do's and don't's of online ordering services. However, the fact that the service comes with an added service cost (granted it is minimal) is a sign that the program has not been perfected. Today there are 681 locations (45 offering grocery) in the UK at which customers can pick up items ordered through Tesco.com.
These pick-up points are found in three different forms (as described by Tesco): Collection Points (409), Direct Desks (259), and Click & Collect (45). A Click & Collect Point is essentially a drive-through for grocery items. It is a place within a Tesco or a Tesco Extra parking lot where customers' orders made online can be picked up within a pre-determined time period (See image above (left) for example of an Order & Collect point in a Tesco Extra parking lot). A Direct Desk is an area in-store where customers are required to walk into the store to pick up their items ordered online. Direct Desk handles non-food items with no service charge on baskets totaling over £25.
The Key is Convenience
45 Tesco and Tesco Extra stores have included the click & collect drive through locations in its parking lots across the UK.
Tesco's new click & collect service saves time, as compared with the Tesco Direct service. With Tesco Direct, customers need to find a parking spot and walk into the store to pick up consumer electronics and home goods items ordered online. The new click & collect drive-thru grocery service provides a much higher level of convenience to customers who are looking to pick up the items that they need to purchase on a much more frequent basis. Other retailers around the world can look at this new click and collect service, however, and ask if the capital investment is worth it. While Tesco is providing added convenience to its shoppers, the question that must be asked is: "does the high infrastructure cost of these drive-thoughs, and marginal (?) increase in convenience, drive enough people to use the grocery ordering service to make it worth the investment?"
It is not a Free Service
Once the pick-up location is selected on tesco.com/collect or tesco.com/delivery customers can choose the time frame in which they would like to pick up their grocery items. While Tesco advertises that the service costs just £2 for each order, it is completely dependent on the time of pick-up. You can see the breakdown of the costs in the image above (Click & Collect on the left and Home Delivery on the right – Expand to see enlarged image). Weekends, when consumers are out and about and are more likely to use the service, are more expensive than during office hours (£3). Customers looking for added convenience are provided with a level of personalization. They have 3 grocery-related shopping choices: (1) pay no additional cost by purchasing items in-store, (2) pay between £2 and £3 for Click & Collect, or (3) they can choose to fore-go the trip to the store as a whole and pay between £3 and £6 for home delivery.
What Does it Mean?
While it seems this click & collect service has been gaining a lot of popularity among UK consumers, it will be interesting to see if or how long the intense capital investment in the infrastructure will take to yield a positive ROI. The service is not free and is therefore a deterrent as many other retailers (Walmart, Best Buy, Harris Teeter, Auchan, Casino etc.) are offering click & collect as a complimentary service (granted, not many of the major chains other than the French hypermarkets and some pharmacies are offering a similar drive-through service).
The push to a commerce anywhere solution is, however, an important goal on the part of all retailers though. E-commerce is not adding sales to store-based retailers. However, consumers are already turning to e-commerce to buy which has resulted in a societal shift to the notion of "commerce anywhere." So, while Tesco may be cannibalizing itself through its large investment in digital solutions, it is attempting to hold onto the purchases it would otherwise lose to retailers like Amazon.com.
In the end retailers will have perfected the offer to the point where there will be no difference in price between goods ordered online and goods ordered in-store. Although there is a big distinction between the two today this line will become increasingly blurred. So while Tesco has provided us with this interesting drive-through concept, by acting on learnings from the French hypermarkets and lessons learned internally through F&F and Tesco Direct initiatives, it is not an end-solution.
How will the next retailer learn from this new service? Only time will tell.
By Sean Deale on March 20, 2012